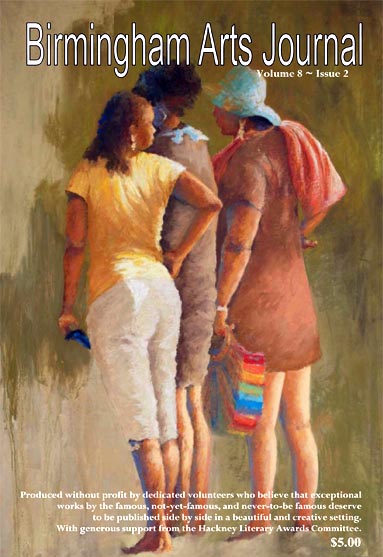 A real perk of my novel Running from Mercy: The Psalms of Israel Jones winning the 2010 Hackney Award for the Novel was having an excerpt published in Birmingham Arts Journal (beginning on page 38 of the issue, or page 39 of the online PDF). Since the Hackney organization does not offer publication, I was pleased when contest spokesperson Myra Crawford informed me that BAJ would be contacting me in order to publish an excerpt. In my post-winning euphoria, I didn't pay much attention and at first thought the periodical was a newspaper; therefore I was a bit wary.
No Downside
Even before publication, however, I knew I liked the folks at BAJ. Editor Jim Reed e-mailed a request to be allowed to review the novel in order to choose an excerpt. I confess to a bit of paranoia about sending a stranger an electronic version of my manuscript in order to surgically remove a slice for his uses. However, it didn't last more than a microsecond. My agent, who's shopping the book to publishers, reassured me: "There is no downside to publishing an excerpt." So I closed my eyes and pushed the send button.
Within a week or two, Mr. Reed responded, saying he liked my book and wisely suggesting that he publish the first few pages, including the epigraphs from Bob Dylan's Chronicles and St. Matthew. I instantly agreed, especially liking the place where he chose to end the excerpt: "And, like that, the journey began."
Lit-Mag With a Mission
After acceptance, I decided to peruse the online version of BAJ to see what the magazine was like. (Yes, perusing before giving permission might've been a good idea; but don't forget those were heady days following the announcement of my winning the award; also, publication almost anywhere is usually a good thing, plus I liked the tone of my correspondence with Editor Reed).
The first thing I noticed was how easily navigable the journal was—you can zoom from the table of contents to the selection itself. Next, I noticed the beautiful layout and artwork, as you can see from the cover above: "Beach Buds," a pastel by Alabama native Libby Wright. And there's much more art inside, ranging from acrylic to oil, photography to laser cut carbon steel. Finally, this note on the back cover caught my eye: "This journal is produced without profit by dedicated volunteers who believe that exceptional works by the famous, not-so-famous, and never-to-be-famous deserve to be published side by side in a beautiful and creative setting." That's a mission statement I can believe in.
The Process
Another huge perk of the process was receiving an electronic copy of my work (digital galleys) to proofread; I did note a couple of problems which were corrected before publication. Occasionally I've been thrilled to have my work accepted by a literary magazine I admire, only to be disappointed when it appears, months later. Once a well-respected journal omitted the final 3-4 lines of my poem. (And what do you do when that happens? Forgive immediately the editors, for whom this is a labor of love, more often costing rather than making them money; like BAJ, lit-mags are usually produced by dedicated volunteers, especially those not associated with a university).
The Product
When the excerpt appeared in Volume 8, Issue 2, I experienced only joy. I had to wait merely a couple of months to see my work; it was perfectly produced; and, best of all, it was surrounded by all the other Hackney winners from the state and national competitions (totaling $5,000, not counting the novel award) in poetry and short fiction. Israel Jones appeared in the excellent company of work that is vital, accessible and thoroughly entertaining—even familiar: Vivien Shipley, editor of Connecticut Review, to which I've submitted, had a fine poem included: "Digging Peonies." And almost all of the work was southern-tinged, which suited me fine.
"We Are Proud of Your Story"
I'm a happy man to have received such an unexpected blessing from this fine small-press publication. Furthermore, I'm extremely grateful to the Morris Hackney family for generously endowing the novel part of the competition. The national stature and significant monetary prize make winning quite a thrill. But it was the personal contact with good folks like Myra Crawford and Jim Reed that made winning—and publishing an excerpt—such a pleasure. It meant quite a lot when, following publication, I received an e-mail from Jim saying "We are proud of your story."
Giving It Back
All serious writers are readers looking for their next literary fix. If, like me, you're picky and you also want to vote for the best, you might consider voting for the unpretentious, high-quality Birmingham Arts Journal with a donation of $25 or more for an individual membership; or $100 or more for a company membership (either of which earns you the gift of four issues). Or you might at least order a single copy for $5. I assume you can read it online for free, but a donation puts a hard copy in your mailbox and supports a very fine arts organization with real vision and a great mission. (And of course if you're a writer, you should consider entering the annual competition. See www.hackneyliteraryawards.org for the next deadline.)
Shouldn't we support those editors and sponsors of contests who support writers?
I'm writing my check right now.
P.S.—Jim Reed not only owns and operates a rare book loft, Reed Books and Museum of Fond Memories, in Birmingham but is also the author of several books, including Dad's Tweed Coat.